MUSIC HERE


CHAMBER OF
COMMERCE
This page is dedicated to HoTaMaLes, a study group from the Virtual University class "HTML and Web Design".

We are a group of students of all ages and backgrounds from around the world who have never met in person -- we have only communicated with each other via our
computers while trying to master the art of HTML. We decided the best way for you to get to know us better is to visit our hometowns and see where we come from -- hence, the name Cyber Chamber of Commerce.


So sit back, relax, and let us take you on a
virtual tour of our favorite places.

Click on the icons to begin your journey----

*As of April 6, 2002, the following student's links were no longer working:
Alberta, Canada (Colin) -- "http://www.telusplanet.net/public/coross/"
Hillsborough, NJ (Rona) -- "http://www.geocities.com/Heartland/Plains/ 8801/hillsboro1.html"
Pittsburgh, PA (Dena) -- "http://www.angelfire.com/pa/pittsburghpage"
Houston, Texas (Vivian)-- "http://www.internet-research.com/vivian/ default.html"
Arvada, CO -- "http://www.pageplus.com/~mfear/arvada.htm"
WebTech -- "http://home.sprynet.com/sprynet/guintaad"
| Alberta, Canada | Arvada, CO |
| --- | --- |
| Hillsborough, NJ | Hollywood, CA |
| Houston, TX | Manila, Philippines |
| Pittsburgh, PA | San Antonio, TX |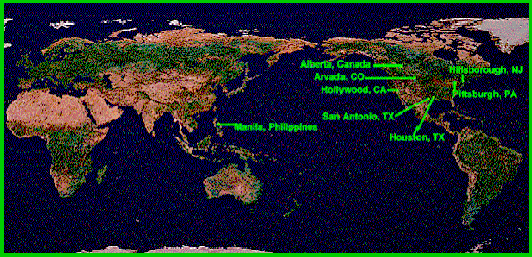 Our sincere thanks to:
Visit the websites of our classmates at The Battered Book

This "Beginning HTML and Web Design" class has been offered by
Virtual University since the Fall of 1996.
Some of the work from previous classes can be found at Links to Student's Pages


© Otter 1997 - 2002
Designed and maintained by Otter Sites Web Design
Copyright is claimed by Otter Sites Web Design to the entire body of this collection, as an entity, and to the HTML code which presents it as a collection. Otter Sites has received expressed permission for use of public domain and other privately owned works on this web site.

The content of this site, in part or in full, may not be reproduced, published, transmitted, uploaded, modified or distributed in any manner without Otter Sites prior written permission. Otter Sites Web Design is not responsible for material presented on third party linked sites.
Copyright © 1997-2002 Otter Sites. All Rights Reserved.
---
Otter Sites does not endorse any banner ads placed on this site by a third party.